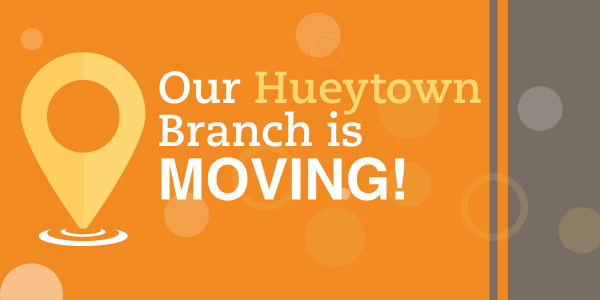 On Monday, Dec. 11, our Hueytown branch is relocating to a new location and will offer a totally redesigned branch experience. We will be moving to 109 River Square Plaza in December. We'll still be in River Square Plaza Shopping Center, just in a more convenient location near the intersection of Forest Road and Allison-Bonnett Memorial Drive.
The new branch will feature state-of-the-art design and technology throughout the branch – all centered on the unique and delightful member experience you've come to love and expect at Avadian.
Our last day at our current location will be Friday, Dec. 8.
What to Expect at the New Branch
In addition to the redesigned branch experience we've already mentioned, you will also have access to three ATM Plus+ machines – one in the lobby and two drive-up ATM Plus+ machines outside – where you can do everything you can do at a "regular" ATM, plus more. Of course, you can get cash, but you can also cash checks, make deposits (cash and checks), transfer funds, make loan payments, and even talk to a real, live human during extended business hours.
Grand Opening Activities
As we celebrate the opening of our new branch, we will have an array of activities and special offers. We will have more details as we get closer, but for now we'll just say this: keep an eye on your inbox because you do not want to miss out.
If you have any questions, please don't hesitate to call Member Services at 1.888.AVADIAN (1.888.282.3426).
As always, thank you for choosing Avadian.