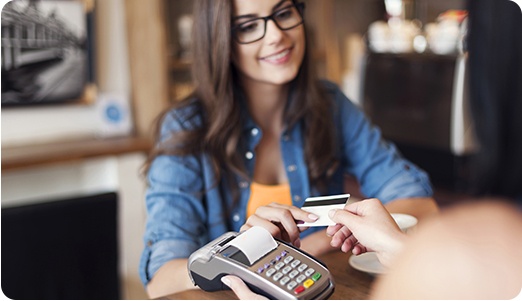 It's no secret that everyone wants to save more. Let us help you save without even thinking about it! Open a checking account with Avadian, and you can also open a Centsible Savings Account that helps you automatically save every time you swipe your debit card and earns 5.00% APY1.
As an added bonus, we will match 25% of your savings for the first 30 days2 and 5% thereafter. To be eligible to receive the match, simply:
Qualify for and open an Avadian Checking Account
Open an Avadian debit card
Sign-up for e-statements.
Every time you swipe your debit card, we'll round up the amount to the nearest dollar and deposit the additional funds straight into your Centsible Savings Account3.
Ready to get started? Fill out our form to the right to speak to a representative.
1Minimum balance required to earn APY is $.01. Centsible Savings dividends will be based on your average daily balance at the end of each quarter. Your dividends will be deposited into your account at the end of each quarter. Rate subject to change. Rate accurate as of Nov. 28, 2018.
2Avadian's match contribution will be credited to the Centsible Savings Account at the end of the calendar quarter based on the accumulated contribution for the calendar quarter or the balance in the account at the end of the calendar quarter, whichever is less. The maximum total match is $250 per year. Fees could apply.
3If you make a return or have a debit card transaction reversed, the "round up" amount will remain in your Centsible Savings Account. You may not make deposits or transfers into your Centsible Savings Account.
This credit union is federally insured by the National Credit Union Administration.
Additional coverage up to $250,000 provided by Excess Share Insurance Corporation, a licensed insurance company.